Starting blogging can be rewarding for you if done in a right way but you need a right platform to get started.
Choosing a right platform for blogging can be a challenging task for beginners and especially if you are from India because blogging is little-known for the people in India, although now all are getting aware and are entering in this growing field.
If you are thinking which is the best blogging site in India to get started in 2022 then this guide is for you. I will be covering the top 6 best sites for blogging and also will guide you step-by-step on how to exactly start a blog on these platforms.
Before blogging was only famous in countries like the US & UK but with time due to the internet availability and digital growth now blogging has become popular all over the world.
In India also there are great people who are at the top in this field; you may be thinking that who is the No 1 blogger in India?? Then let me tell you that Amit Agarwal is the most famous Indian professional blogger who has achieved great success in the blogging field.
Just take a deep breath, relax and take a taste of the top blogging sites in India and then choose one of them that fulfill your needs.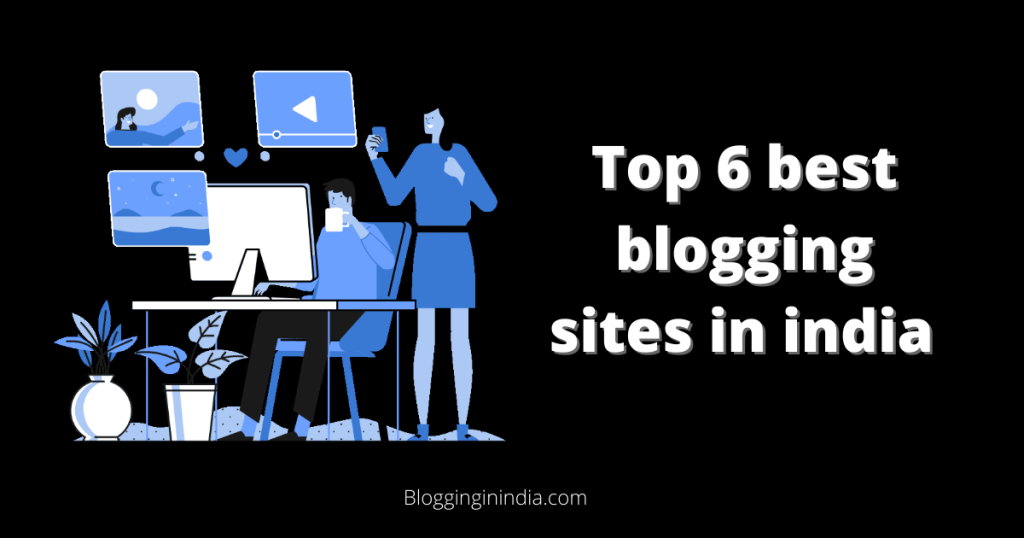 Before getting in more depth I would like to give a short answer to a question that most beginners have in their mind and that is what blog can i start??
You can start with any niche (topic) that excites you and in which you have good knowledge and expertise. Below are some blog niche examples on which you can get started.
Cooking blog
Traveling blog
Educational blog
Personal blog
Affiliate blog
Entertain blog
Lifestyle blog
And the list goes on.
Ok, so now without wasting your valuable time lets dive in.
How do I start blogging??
Free blogging sites in india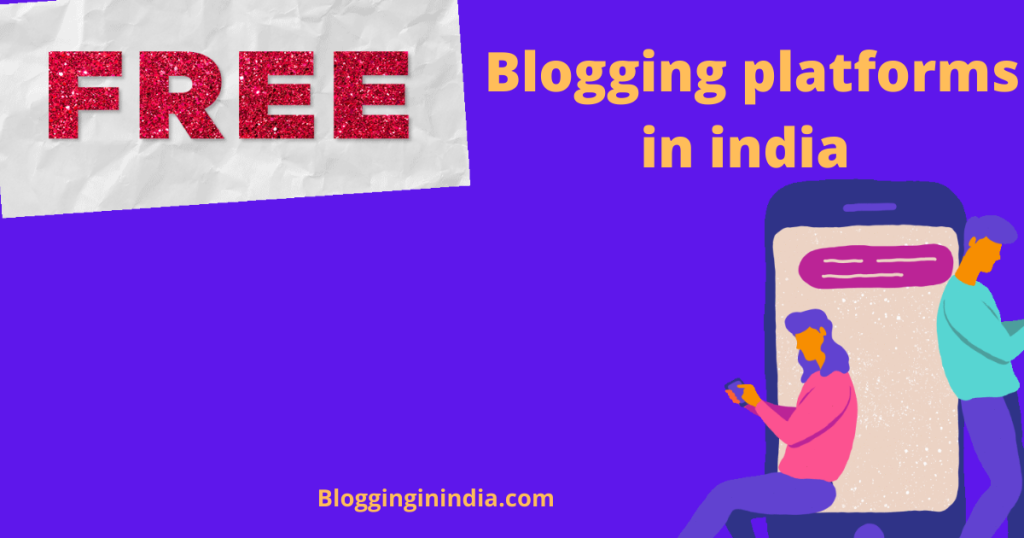 The easiest way to make your content available for people to read online is by creating your own blog & to do that you can use free or premium blogging platforms.
If you don't have any investment then you can start a free blog, there are some easy to use blogging platforms on which you can start your blog in minutes.
Paid blogging sites in india
If you have some investment and want to get more out of your blog then you must start a professional self-hosted Word-press blog that most of Experts recommend..
The benefit of creating a professional blog is that you have full control over your blog and you can customize and design it as you want. You can take your blogging journey to the next level by creating a blog using wordpress software, as it gives you more freedom.
I am not saying that free blogging platforms are not good but there are some limitations that you must keep in mind before using it.
I know now you will ask jiten which is the best blogging site in india ??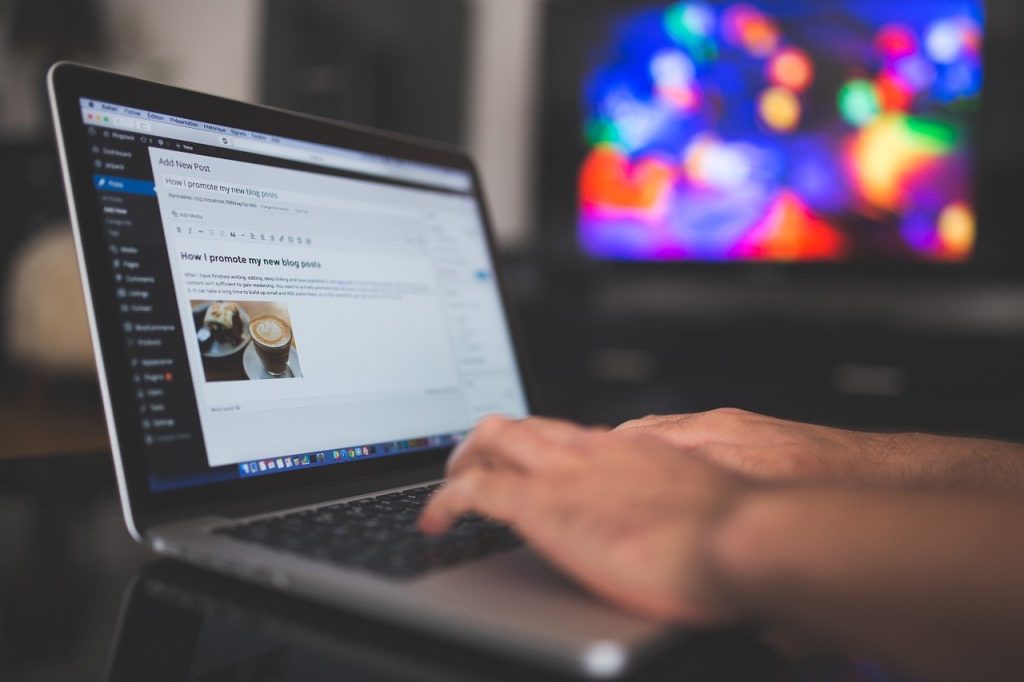 So the short answer is that it depends on your requirement and to what extent you need to take your blog. If you want to seriously reach to such a point where people will interact with your blog as a brand or a business then my suggestion for you is to create a professional blog using WordPress software that most people do.
Anyway, now let's talk about 6 best blogging sites in India.
Below are list of blogging sites in india
WordPress
Blogger
Tumblr
Medium
Wix
LinkedIn
6 Best blogging site in India
#1 WordPress: 
Many people often get confuse about WordPress because it has two different versions, wordpress.com & wordpress.org, basically the wordpress was Launched in 2003 and now it has become the most popular software on the planet.
Do you know that over 40% of websites on the internet is powered by wordpress & many people are using wordpress to create stunning websites and even a professional blog.
The one is wordpress.com on which you can start a free blog but with lot of limitations and the another one is wordpress.org that is an open source software through which you can build professional blog (As I have talk above)
WordPress.org is also free but to install this software you need to do some investment in buying your own domain name (website address) and hosting (Storage for your website).
But today I am only going to talk about wordpress.com through which you can start a free blog.
WordPress provides their free sub-domain (WordPress.com) and hosting through which you can make your blog live within a minute.
But with a free plan you get Limited functionality, storage and visits.
To get started with wordpress just follow the below given steps.
Step1) Go to wordpress.com
Step 2) you need to scroll and look for "start with a free option" as shown below in figure.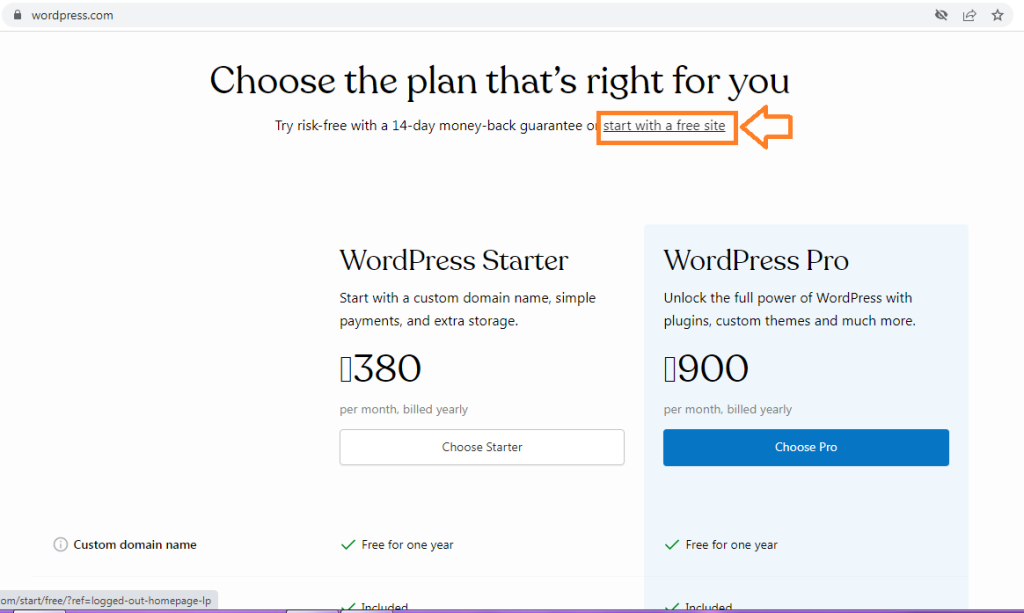 Step 3) just fill up the basic details like email, username, password and click on create your account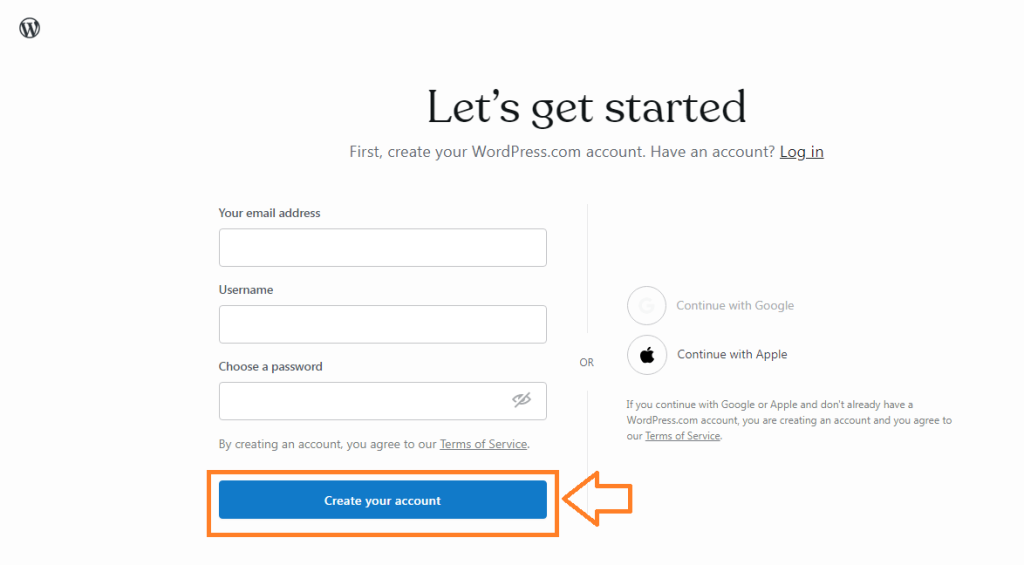 Step 4) Next step is to search for your blog name, and if available then go with free option as shown below.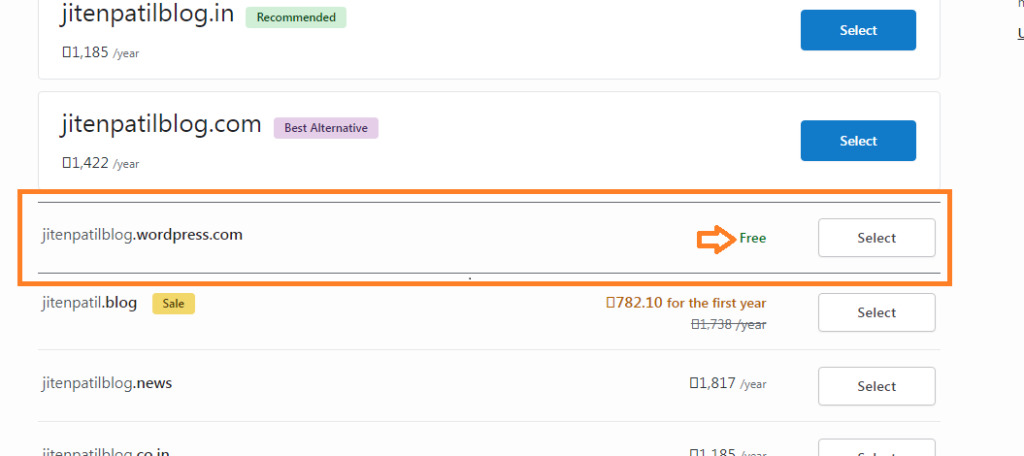 Step5) you need to click on skip to dashboard.
Step 6) just complete some basic tasks about your blog and there you will find "launch your site to the world" just click on it and make your blog live.
Keynote: 1) verify your email before launching you site
2) After clicking on the launch site, you need to again put your site in the search box and there you will find the "skip purchase" option and then choose the free option and your blog will be live. That's it.
Now the next platform is blogger.com and that is well known product in the market.
If you are a student then you must also read my detail guide on advantages and disadvantages of blogging for students
#2 Blogger:  
Many beginners start their blogging journey with the blogger platform, as it is a Google product it has tight security and the best part about this platform is that it is absolutely free to use. You don't even need to spend a single penny to start a blog using this platform.
Blogger provides free SSL(Secure socket layer) which means https, secure connection that will make your blog more secure on the internet & Google also loves and gives rewards to the sites that start with https.
Same as Word press, this platform also provides their free sub-domain (blogspot.com) and free hosting (Storage) to create a blog. They have widgets to add some functionality to your blog, they provide you free themes etc.
The process of creating a blog is very simple on a blogger platform and if you want to know that then just follow below steps.
First go to blogger.com
Step1) sign in using your Gmail account
Step 2) Enter the title for your blog, you can name it anything based on your niche (topic) & click on next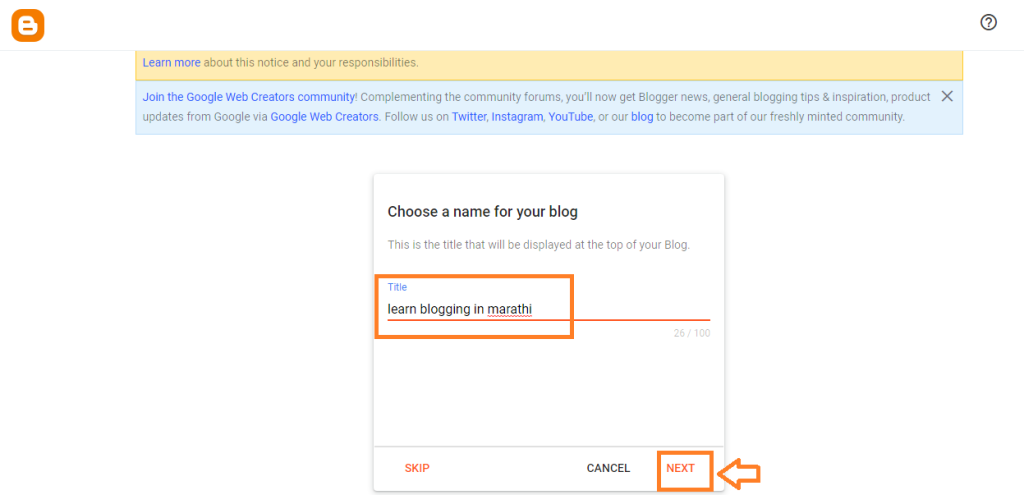 Step 3) Add name for you blog based on your topic.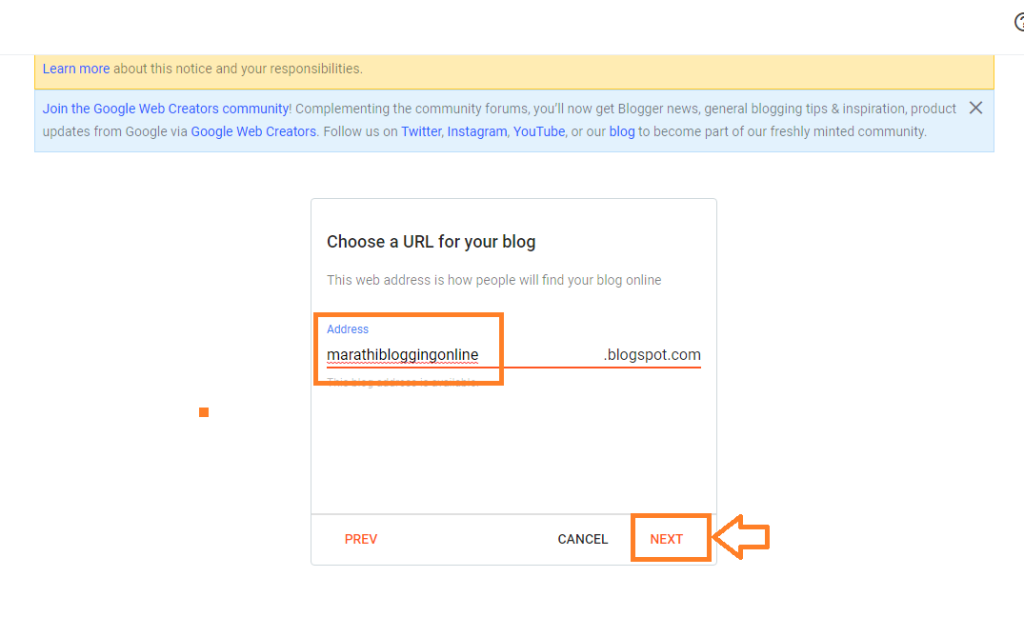 Step 4) Enter your name, as it will be displayed on every blog post you create & just click finish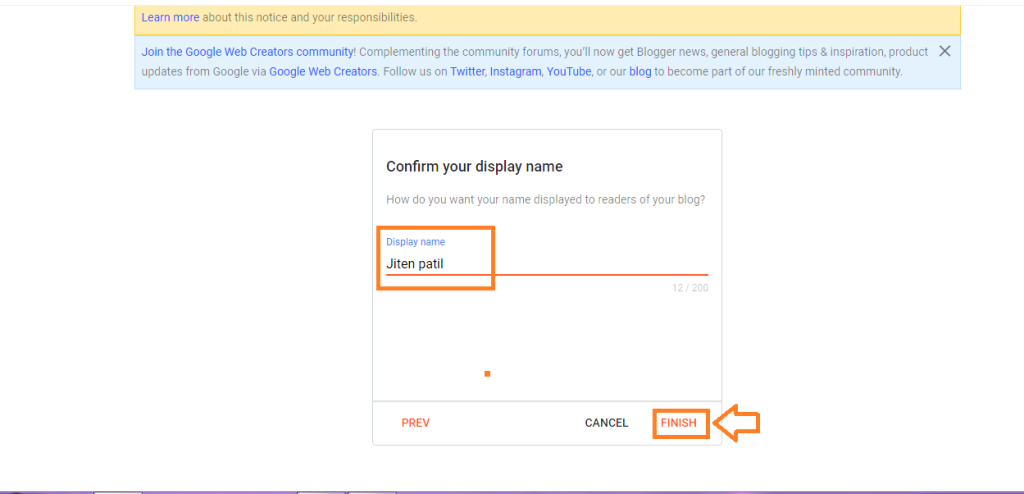 Congratulations! You did it.
So this way you can start your first blog using this awesome platform.
After creating a free blog it will appear as: yourblog.blogspot.com, at the end of your blog blogspot.com will be added and that is the sub-domain, but Blogger platform also gives us an option to connect to our own custom domain name.
If you don't want blogspot.com to appear at the end of your blog then you can purchase your own domain name that will cost you around 500-1000Rs per year, and can connect it with blogger platform.
After connecting your custom domain blogspot.com will vanish and your blog will look like this: yourblog.com instead of yourblog.blogspot.com. Are you getting it!
The benefit of adding a custom domain name is that it helps people to remember your blog name and also helps to build up your brand online.
But there are some drawbacks of using a blogger platform and let's talk about it.
Drawback of blogger platform
You cannot fully customize your blog
Less no of widgets and plugins.
Limited and simple themes.
Your blog can be deleted if you violate any policy there.
You don't have full control over your content.
#3 How to start a blog on tumblr
Tumblr is just like a social media platform but it has an option to let us write content and publish via their platform, basically this is a microblogging and social networking platform that was founded by David karp in 2007.
Many people start with tumblr because of its clean interface and easily customizable options.
You can even share images, videos, and links on this platform to get more readers on your blog.
Here are the exact steps to get started with tumblr.
Step 1) Visit tumblr
Step 2) Just fill up your basic details: email, password, your blog name & create your account.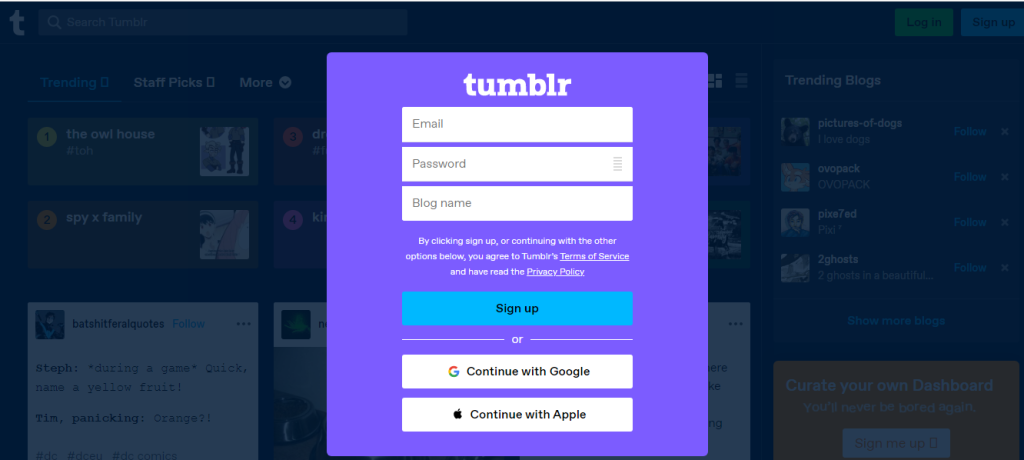 Step3) Next you need to just select 5 topics or else can skip that option.
Step4) Now you will be redirected to the dashboard and from there you can start writing your first blog post or can even add images, videos, links, quotes, etc.
Note: To fully activate just go to your Gmail and verify your account.
Step 5) To write your first blog post you need to click on the pencil icon located at the right top corner and from there just select the text option and start writing your article.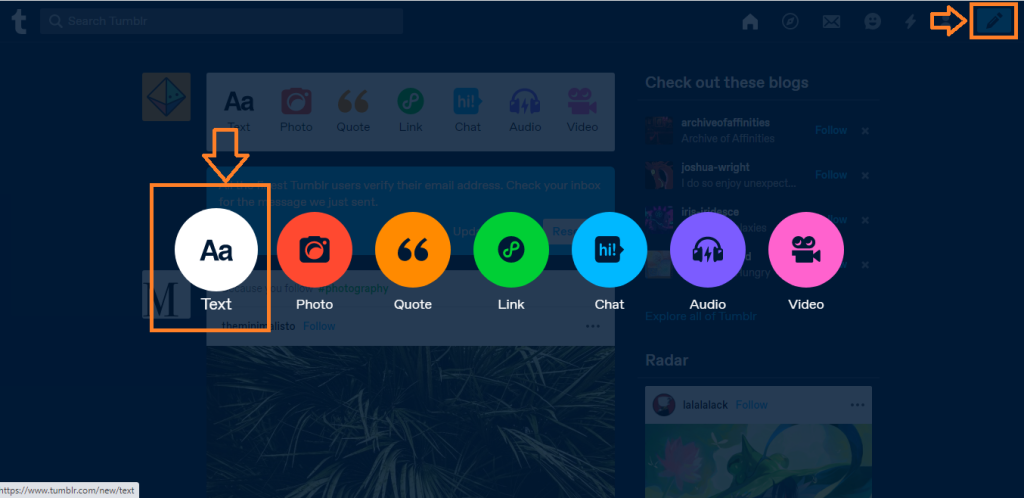 Now let's talk about other remaining blogging platforms on which you can get started.
#4 Medium:
This platform can help you to connect with a large number of readers and a community of bloggers. If you want to get a good amount of readership then you must try out this amazing platform.
Straight forward process to start blogging on this platform, just sign up and you are ready to go.
You don't need to worry much while using this platform as the interface is clean with easy customization options.
Get started with this platform by following easy steps drill down below.
Step 1) click here to land on medium home page
Step2) find Get started button to sign up.
Step3) join medium using face-book, Google or email, here I am going to sign-up with email.
Step 4) Next check your inbox in Gmail and create your account as shown below.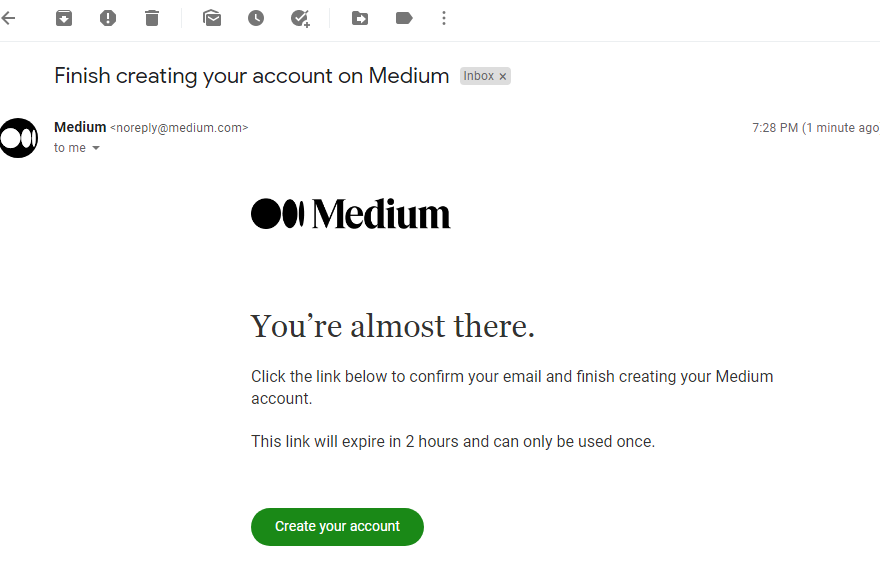 Step 5) just find the write option at bottom and start writing your first article, that's it.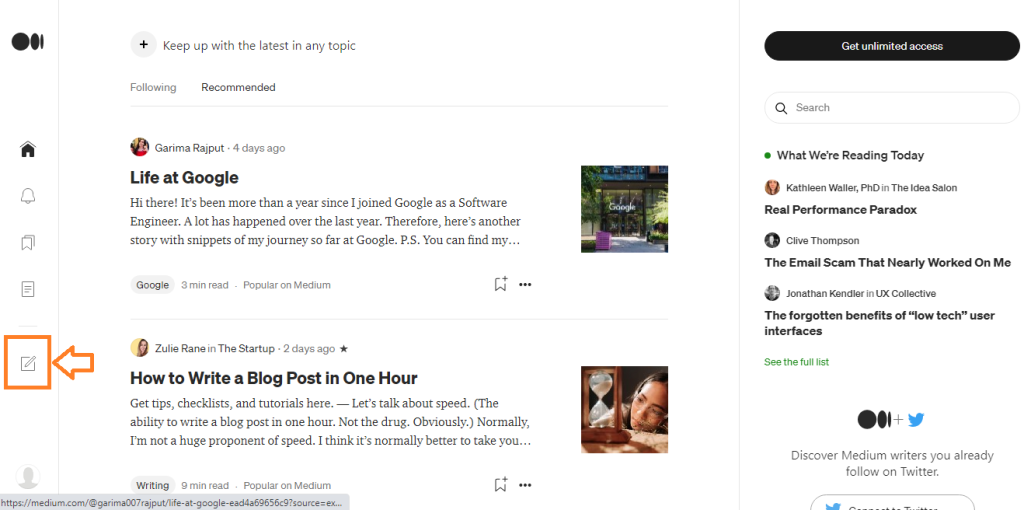 #5 How to start blogging with Wix
Mainly built for creating stunning websites, easy website builder with lots of customization options at free of cost.
You can even start building your blog at no cost using this user-friendly blogging platform.
Wix is just like WordPress platform that can be used to create any type of website & to get started with this platform click here
Step 1) just start with creating your account, you will find various options to sign up.

Step 2) Next you need to answer some questions asked by Wix , just click on get started.
Step3) select blog option and click on next
Step4) Give name to your blog, you can give it anything based on your niche (topic) & click on next
Step5) The next step is to select a goal for your website, you can choose to share knowledge.
Step 6) after that just choose more options & click on next
Step7) just give more answers or else skip it & then you will be redirected to the home page, you need to click on start now.
Step8) Select a template that suits your niche, then start building your blog with the help of wix website builder.
Step 9) To create a new blog post you will find an option located in editor only as shown below. that's it.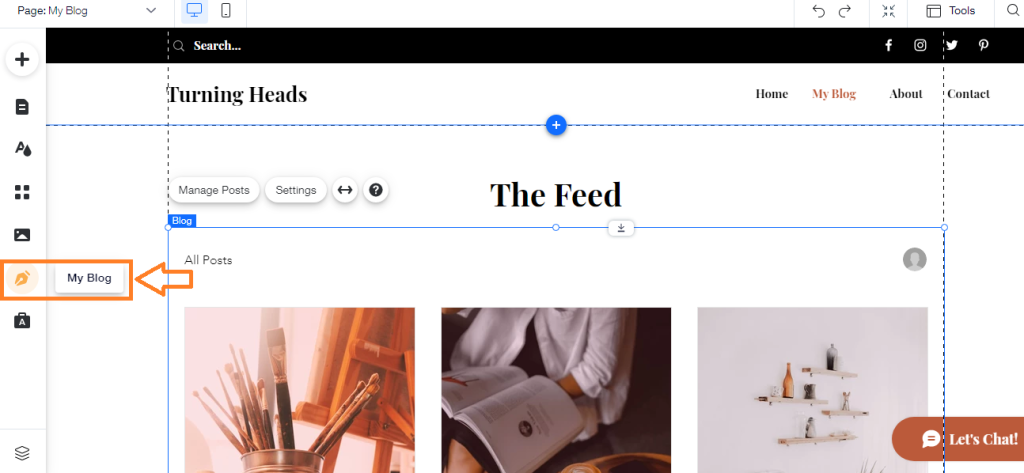 The Wix platform may look a little bit complicated to use but with time you will get hands on it.
The last and best platform you may not believe is Linkdin.com, Yes! Even on LinkedIn you can start your blogging journey at free of cost.
#6 How to start a blog on LinkedIn
You must be having your account on LinkedIn, which is one of the popular site for job seekers and professionals, but do you know that this platform also allows us to write content and even you can write on LinkedIn and can reach a broad audience.
On LinkedIn you will find lots of professionals and expertise people with huge followers and they know the importance of producing content in this digital Era.
So if you are opting for niche (topic) like finance, business, marketing or some special type of skill then you can try LinkedIn platform
To get started with LinkedIn just follow below steps.
Step1) Go to LinkedIn and create an account for yourself if you don't have one.
Step 2) login and there find an option to write an article as shown below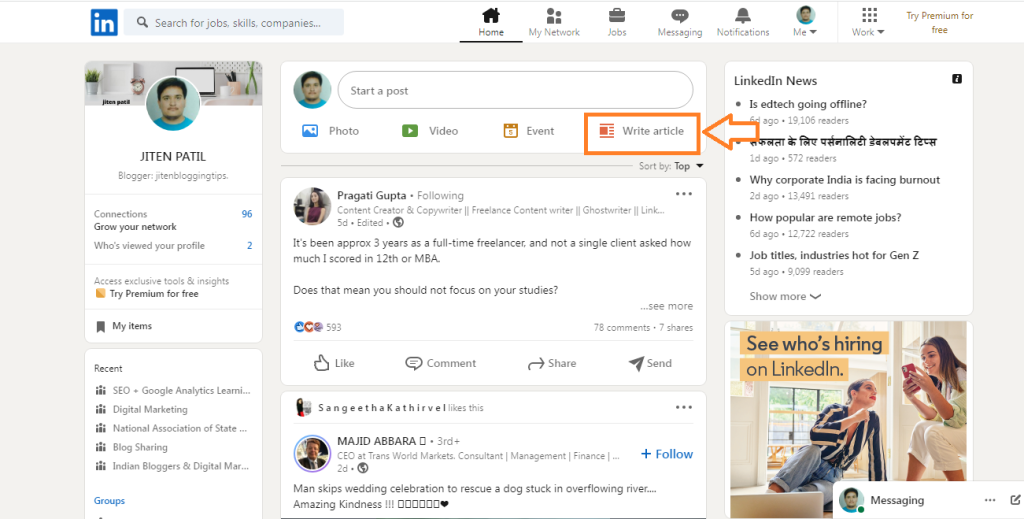 Step 3) just start writing your first post and after completing it publish to get it live for readers.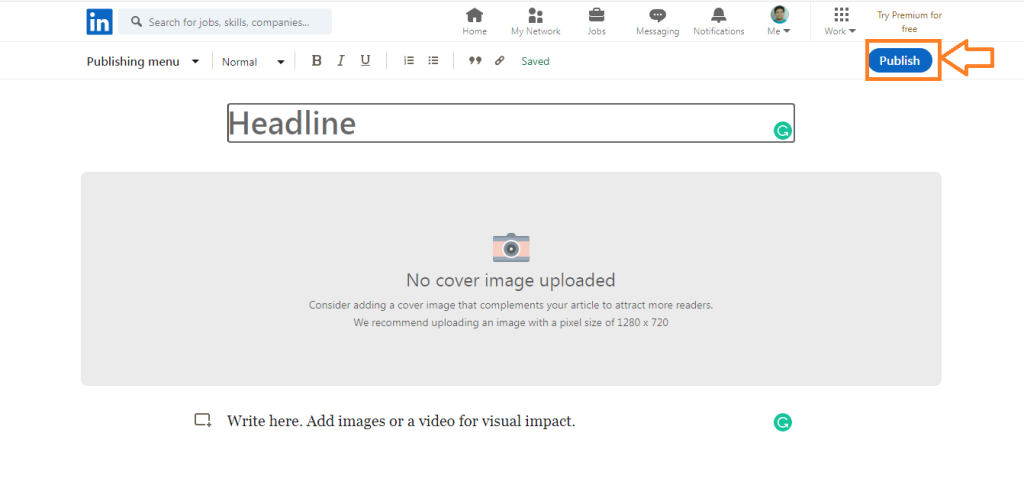 So the above were some best free blogging sites in india on which you can start your blogging journey.
In the next upcoming blog post you will get to learn about how to start a professional (Self-hosted Word press) blog step-by-step, so don't forget to bookmark or just remember my site name blogginginindia.com.
Up to you-
After knowing 6 best blogging sites in India Your next step is to choose any one blogging platform from the above that fulfill your needs and just get started.
My friend, still if you have confusion about which website is best for blogging then I will recommend you to start with blogger.com, yes! This is a really nice platform for beginners who are just starting.
I have also personally used this platform and even it can handle a good amount of traffic.
If you have some investment and want to get more out of your blog then I strongly recommend you to start a professional blog using the most popular free software like Word-press.
You need to just do a little investment in buying hosting (Storage) and domain (website name) & further you can install WordPress to customize and design your blog & those exact steps I am going to show you in my next blog post, so stay tuned!
I hope you have got the exact solution to your query and please consider sharing this article with others who are looking for the best blogging sites in India to start their writing journey.
Which platform are you currently using or are going to use?? Let me know in the comment box.
See you again in another blog post.
Happy Blogging..
FAQ
Which blogging site is the best??
There are plently of blogging platforms on which you can start your blogging journey and some of the best sites are shown below
1) blogger.com
2) tumblr.com
3) WordPress.org software highly recommended
4) wordpress.com
5) medium.com.
Is Blogging Easy??
Starting a blog is easy but to mantain and run it succesfully is not easy task, As you need to work consistently and have to produce solution orianted content for your readers.
Can I do blogging from mobile??
Yes! you can, but it may become complicated when you want to do some major changes in your blog like adding important codes and customization.
Is it worth blogging in 2022??
Blogging is an growing field and people keep searching various information on internet related to various niches & blogging is going to long last in future too! so without any doubt it is worth to start blogging in 2022.
How long should blog posts be??
it's totally depends on the type of content you are going to write, if it is a guide then it may be 2000-3000 words long, even some information sumup within 500 words.